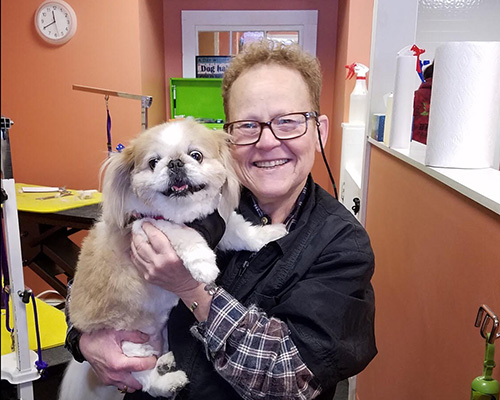 Hello, I'm Sundance Lev, the owner, and operator of Grrreendog!
After studying Dog Grooming at the Rochester Institute of Dog Grooming in 2008, a dream formed in my mind to establish an alternative grooming salon experience, one where the culture would incorporate calm, quiet, respectful treatment of the dogs with a "green", non-toxic environment. Grrreendog Grooming and Spa was founded in 2010 with the promise to be:
"Gentle with your dog, gentle on our planet"
Grrreendog allows me to combine my training and experience as a dog groomer, a small business owner, a teacher, and a lover of living things (BSc. Wildlife Biology, UVM). In 2011, I taught at the Workforce Development Conference and participated in their video "Embrace Our Tapestry". This was followed by the NDEAM NYS Entrepreneur of the Year award in 2012.
I endeavor to provide for you, services that go far beyond just taking care of your beloved dog. I believe my customers' dogs are family members– deserving of respect and loving care.
It's so great to be able to educate pet owners and share the knowledge that I (and my team) have, so you may make better decisions for your pet(s) on a daily basis. I enjoy seeing pet owners feel good about taking care of their furry family members. I truly want your dog to be healthier and live a longer happier life.
My family includes my senior dog Jada, and my puppyish Lior, as well as our very demanding African Grey parrot Parker, and an assortment of very gentle freshwater fish.