Who We Are and Why We Do It
Naturally, we are all dog-lovers, and we also enjoy seeing our pet owners feel good about taking care of their four-legged family members. The services we provide go far beyond just taking care of your animals. It involves developing a meaningful purpose-filled relationship with each and every one of you.
It's so great to be able to educate pet owners and share the knowledge we have, in order for you to make better decisions for your pets on a daily basis. We truly want your pets to be healthier and live longer happier lives.
We believe our customers' dogs are family members. No, not in a ridiculous way, but in a humane way - we view each pup as deserving of respect and loving care. At Grrreendog our goal is to improve the lives of dogs and their owners, Each one of our dogs wants, and needs, us to be their 'hero'. We learn to speak their language. We spend time in their energy. And what we get one-hundred-fold is their love. Dogs are full of unconditional love. And it is our duty to give that back.
Sundance Lev
Owner & Operator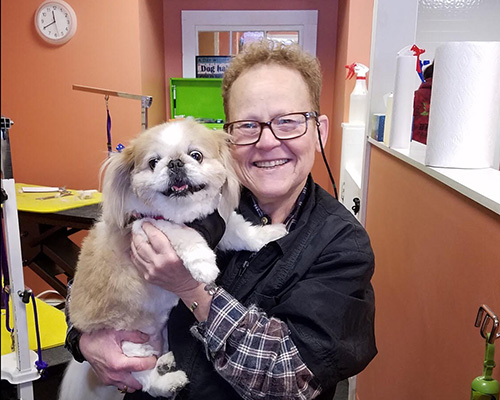 After studying Dog Grooming at the Rochester Institute of Dog Grooming in 2008, a dream formed in my mind to establish an alternative grooming salon experience, one where the culture would incorporate calm, quiet, respectful treatment of the dogs with a "green", non-toxic environment. Grrreendog Grooming and Spa was founded in 2010 with the promise to be: "Gentle with your dog, gentle on our planet".  (She/Her/He/Him)
Read More
Keisha D
Daycare Lead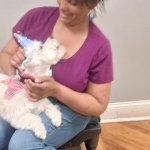 Keisha is a mom of 4, grandma of 4, and puppy-mom of Fred the Standard Poodle. Keisha is an EFT practitioner and energy healer. She has an extreme love for dogs. Keisha believes laughter and puppies are the best medicine.
My name is Noel , and I have two main passions for my life: dogs and the drums. I grew up here in upstate NY, spending my childhood in a small farm area surrounded by animals, having them rest at my feet and around me while I would practice percussion (I'd be lying if I said I didn't skip multiple practice sessions to play with my dogs instead). I've been very fortunate to regularly perform music nationally & internationally, but when I am not tied to any musical obligations, my passionate drive brings me to care for dogs. Specifically here at Grrreendog, my goal is to help uplift and care for every dog that comes as if they were my own.  (They/Them)
My name is Lapis, I am one-year old and the Granddog of Sundance the Owner. I am very proud of my Grandma and all that she's accomplished. I come to work at Grrreendog almost everyday I manage to get underfoot, jump over the gates, play with any human and dog that wants to play, and emptying the trash. I excel at staring longingly at the great selection of dog treats that are sold here... sometimes it works in my favor. As My doggy tag says, "I do what I WANT TO DO!" Savta
Sundance
agrees.
(She/Her/Bitch)
"They are so great to the dogs here. I'm super protective of my tiny little Maltese...
She's very petite and mostly scared to death of large dogs...She isn't scared to go and even better is that she's not scared when she leaves, and doesn't mind coming. That's how I know they treat the dogs well. They take great care with your pups. Well worth the cost. In a day and age where it's probably near impossible to hire and find staff that care, the owner has found great people to add to her business. I will keep bringing Lily here."
~ Angela N